Elevated Roof Insulation System
Get a Quote For Your Project
Increased Thermal Performance for Today's Stringent Energy Codes
R-Boost is an economical solution that achieves the increased levels of thermal performance the latest codes demand. This unique patent-pending design features a bridge between an initial and secondary layer of blanket insulation, doubling the insulation capacity and meeting energy codes throughout North America. As localities across the country continue to adopt newer and more stringent energy codes, we know requirements to provide higher R-values and lower U-factors will be a key component to your building needs and give you a cost-effective competitive edge.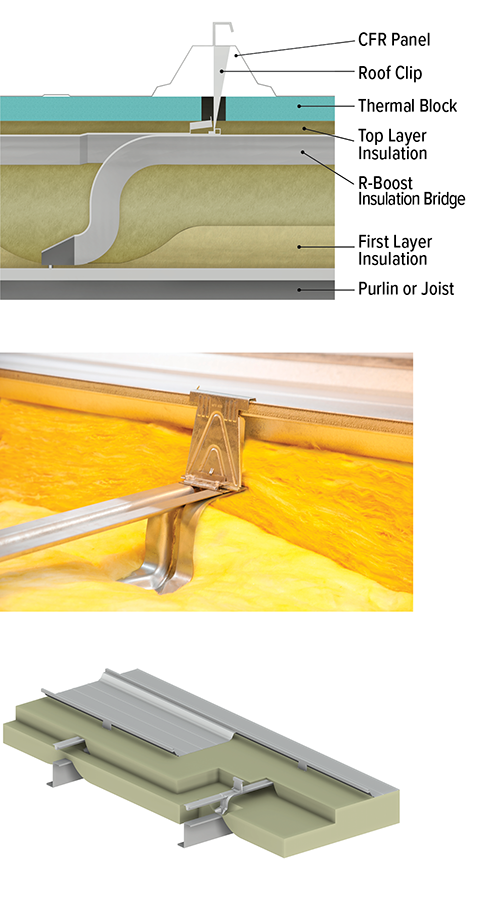 Boost Your Thermal Performance
R-Boost can realize U-factors as low as 0.026, which meets the requirements of IECC 2018 (Climate Zones 1-8) and ASHRAE 90.1-2016 (Climate Zones 1-8) for United States. These levels of thermal performance are ideal for utilizing tradeoffs, or if you're interested in seeking LEED® certification for your building project.
Boost Your Cost Savings
R-Boost is designed to work with Nucor CFR™, a standing seam roof system well-known for its performance, strength, and weathertightness. Nucor CFR panels have been tested and approved by Factory Mutual® and Underwriters Laboratories® for wind uplift as well as hail and fire resistance. When used in combination with R-Boost, this system provides you with the highest potential for total building system cost savings. And on average, R-Boost installation costs are considerably lower than that of competing systems.
Boost Your Energy Compliance
COMcheck™ is an incredibly useful tool to help you become energy compliant. Just type in your building information and COMcheck™ will determine whether or not you are compliant with your specific energy code, and help you decide what needs to be changed in order to become compliant. COMcheck™ evaluates your building using assemblies of different performances, giving you the ability to select the most cost-effective options, and determine tradeoffs.