Steel Building Mezzanines: Composite Floor Systems
Get a Quote For Your Project
The Ideal Mezzanine System for Custom Metal Buildings
The Ecospan Composite Floor System is an economical, innovative method of providing all steel and open web structural components for mezzanines in metal buildings.
Ecospan is not only competitively priced and of the highest quality, it's faster to install than a traditional mezzanine. Ecospan mezzanines incorporate the benefit of open web configuration with maximum joist spacing that provides more vertical space allowing for design and installation flexibility of the HVAC and electrical systems within your building.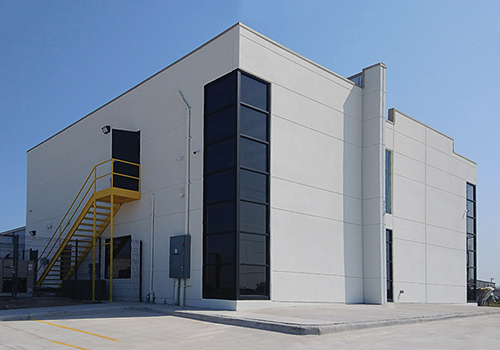 Economical, Stable, Sustainable Steel Mezzanines
Our Ecospan steel mezzanine systems use a unique configuration of components with high strength-to-weight ratios that allow for longer spans, shallow floor depths, greater rigidity, and enhanced performance. Made with 97% recycled steel joists and over 70% recycled steel decking, Ecospan mezzanines offer the benefits of sustainable building materials that qualify for LEED® points through the US Green Building Council.
Easy and Fast Mezzanine Installation
Ecospan mezzanines are easily installed using our exclusive, patented screw-down Shearflex® HD Connector, secured with a uniquely designed Shearset Tool included with each system. Each connector is placed in under 10 seconds – no wood, shoring or stripping required. Your mezzanine system can also be designed with no on-site welding. Once the floor system decking is in place, your mezzanine is ready for concrete.
Mezzanines with a Clear Advantage
Lightweight, shallow, composite joists mean greater rigidity, as well as a more economical solution, for your mezzanine. Ecospan's joists range from 10" to 40" deep, with lengths up to 60' feet. They are typically spaced at 4' to 6' on center, allowing installation flexibility for mechanical, electrical and plumbing systems for your building.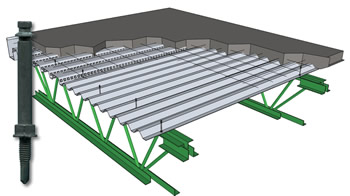 Ecospan received a sound transmission classification rating of 57 in acoustical tests conducted by the renowned Riverbank Acoustic Laboratory. Impact insulation classification tests were also impressive with minimal sound attenuation materials required.