Curb Mounted Prismatic Skylights
Nucor Curb Mounted Prismatic Skylights are designed to optimize lighting performance at low angles – with no moving parts. The resulting performance provides better quality light for the maximum hours per day. NBS prismatic skylights allow 100% diffusion and transmit 35% more light than conventional skylights – virtually eliminating hot spots and glare within your building.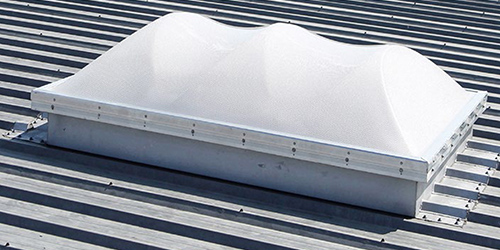 Perfect for New Construction and Retrofit Applications
Our curb mounted skylights use the highest UV-resistant materials available, with a lens double-glazed with acrylic over acrylic, ensuring the highest visible light transmission. The prismatic dome is sealed with a silicone and urethane seal between the prismatic lenses before it is fully welded with encapsulating and insulated thermal break. There is no exposed metal, and the pre-installed foam curb gasket and curb weather sweeps mitigate condensation concerns. The frame sits on a curb and is screwed in with stainless steel screws with rubber washers.
High Performance Prismatic Skylights with No Moving Parts
Available in a variety of sizes and engineered to withstand severe weather conditions, our curb mounted prismatic skylights feature a double-glazed prismatic lens that achieves a Class 4 Impact Zone glazing rating. The high-performance design has no moving parts, and is stronger than building code requirements.
NBS Roof Curb System for Prismatic Skylights
A successful roof curb system is one of the key barriers against the elements for any building. It's essential that every component is of the highest quality and able to withstand severe weather conditions. Nucor's roof curb system enables lightweight roof accessories such as skylights and smoke vents to be installed with virtually any Nucor roof panel. Each standard roof curb is shipped with mastic, tube sealant, fasteners, rib covers and insulation.
No Secondary Framing is Necessary
Nucor's roof curb system comes steel lined with an insulated curb wall and requires no secondary framing – reducing total curb installation weight. The elimination of secondary framing results in significant savings not only in material but also engineering, detailing, and construction labor.
Pre-punched holes are provided around the perimeter of the curb, taking the guesswork out of fastener spacing and assuring optimum weathertightness. Internal fastening along the roof curb sides limits the number of fasteners exposed to the elements.
Fall Protection Safety Frame
One unique feature of Nucor's roof curb system is the integrated safety/security frame. Developed by engineers, this grid incorporates welded grating, further demonstrating Nucor's commitment to safety and innovative solutions.  Learn More About our Roof Curb System for Prismatic Skylights
Features of NBS High Performance Roof Curbs
Does not require secondary framing between the purlin/joist members
Perfect for new and retrofit applications
Allows for expansion & contraction while resisting uplift
14ga support channels resist live loads and provide backer for curb attachment
Curb height of 7″
Mitered and fully welded corners
Fully welded water cricket with a 1″ splash lip
No special detailing required
All curbs are insulated as a standard
OSHA compliant as a standard
Interior side fasteners improve weather-ability and aesthetics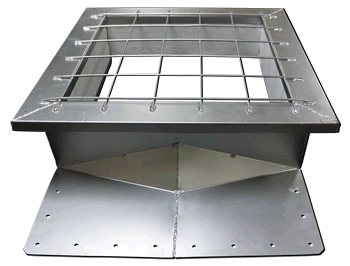 Get a Quote For Your Project